Our mission is your Business!
Require effective pest control in your home or workplace? Then call Auckland Regional PEST MANAGEMENT Ltd today. We provide quality PEST MANAGEMENT ensuring a job well done every time.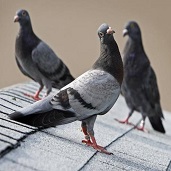 Cost Effective Services
Our services include commercial, industrial, warehouse and high-rise office pest management services.
Different Pests are higher risk for certain businesses:
Moths are high risk for companies dealing with textiles
German Cockroach infestation is a problem for the food industry
Rodents are a problem for all industries as they travel and breed regularly. The damage and disease they cause is second to none
Bed bugs are a concern for hotels and Back Packers. They are spread quickly by visitors from all over the world
Birds carry diseases and destroy most things. Their faeces, on ledges, roofs, furniture and other areas are unattractive as well as destructive
Auckland Regional PEST MANAGEMENT Ltd service programme covers all specific threats.
Auckland Regional PEST MANAGEMENT Ltd will recommend the service you require at a reasonable cost.
Auckland Regional PEST MANAGEMENT Ltd will guide you by:
Protecting your living and working environment
Reducing health risks
Assisting you in protecting your property investments
Auckland Regional PEST MANAGEMENT Ltd will solve your PEST MANAGEMENT concerns in a safe, cost-effective and environmentally friendly manner.
Auckland Regional PEST MANAGEMENT Ltd is committed to giving you the very best in the latest PEST MANAGEMENT developments available.
Everyone has different needs and we do our very best to match our level of service to your individual needs.
We can solve your pest problems right now, and give you advice and solutions about future potential pest problems.
Our services include:
Pest Control and Pest Management Services for: Residential, Homes, Commercial, Office, Industrial, Rental, Real Estate, Management, Body Corporate, Hospital, Restaurant, Hospitality, Hotel, Motel, Resort, School, College, Retail, Shop, Kitchen, Bakery, Shopping Centre, Church, Child Care, Townhouse, Apartment, Flat, Unit, Food Service, Factory, HACCP, Doctor, Surgery, Health Care, Mall, Casino, Property Management